This entry describe about "Secret Folder" feature of ThumbVideo v1.5 or later.
This feature hide private video files which you specified from local files list. It does not encrypt files. Just hiding from list. Some PC/Mac application can access hidden files through USB cables. Please use this as casual camouflage on iPhone/iPad.
■How to use.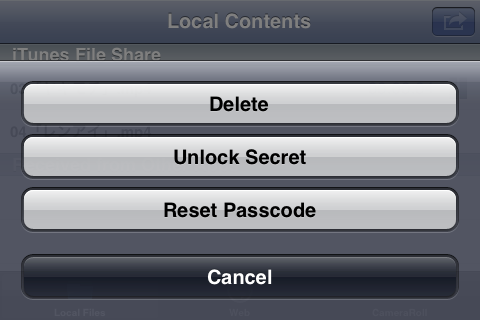 The access to this function itself is intentionally a bit tricky. Tap the action button on the upper right corner of the "Local Files" screen. The action sheet will appear. Then wait 3 seconds. The hidden menu will appear. You can tap action button once more, it will show the hidden menu immediately. Tap "Unlock Secret Folder" and input default passcode "0000". The "Secret Folder" group will appear on the list table. This is the Secret mode. Tap action button again and "Hide/Unhide". The navigation bar turns into green. Now you can choose files to move it into "Secret Folder" group. If you select the file in that group, it will move to "iTunes File Share" group. You can change your passcode in "Change passcode" using any 4 digit character. If you forget your code, you can reset it, but the files in the Secret Folder will be deleted. Tapping "Lock Secret Folder" or switching other app will lock (hide) secret folder again.